Superb Hosting Offers Unprecedented 50% Off All Dedicated Servers!
To celebrate their 15 year anniversary, Superb Internet is offering up to 50% all dedicated servers for the month of October. More specifically, dedicated servers listed as clearance only receive a 30% off discount, but the rest of the servers are a full 50% off the monthly rate. The best part about this offer is that these discounts are locked in for the life of your account. This is a deal of a lifetime and I guarantee you this is the best deal on dedicated servers you can get. Where else can you get a Dual Xeon Westmere server for just $220/month.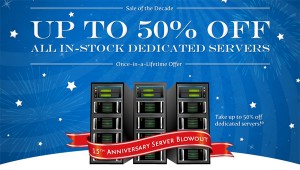 There is one stipulation for this offer… you can only receive this amazing discount on dedicated servers available within their existing inventory. Not to worry, Superb Internet has literally hundreds of servers in-stock to ensure they can provision dedicated servers in several hours. This means we have the flexibility of choosing among 3 data centers on Westmere, Nehalem, Core i7, Core2 Duo, P4, and Xeon servers. To give you an example on the type of the amazing discount, here are examples of server configurations they have in stock:
So I checked with Superb Internet's sales by chatting with them and they confirmed all discounts for this promotion will last for however long we decide to keep the server. As long as we put the order in by the end of the month, we will get a heavily discounted server. For full details on this exclusive offer, check out their landing page.
This entry was posted by Superb Hosting Reviewer on October 19, 2010 at 4:19 am, and is filed under Coupons. Follow any responses to this post through RSS 2.0. Responses are currently closed, but you can trackback from your own site.
Comments are closed.