Analyzing Web Traffic of Superb.net
Getting traffic to come to your website is crucial to the success of your online business. Sometimes the stars just align and you happen to rank well with the search engines. Other times, it seems like your whole competition is ahead of the curve and is forcing you to swim upstream in the battle for face time with internet users. Nevertheless, it is important to be persistent and patient with your online web strategy. If you ever hit a wall with what you can do to improve your web traffic strategy, do what I do… analyze what the other experts do.
Superb Internet's website, www.superb.net, currently ranks 54,958 according to the Alexa traffic rankings. For those who are unfamiliar with Alexa rankings, treat Alexa as an independent institution that determines what the most important websites are based on the level of traffic it receives. The more traffic you can push to your website, the higher your Alexa rankings will be. Granted Superb Internet has an advantage of being around since 1996 and probably has SEO experts considering they are a web hosting company, all new websites can strive to boost their rankings just like these guys.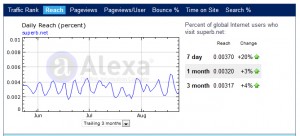 One thing that is interesting to point out is that Superb Internet gets a large amount of traffic from international users outside of the United States. How much of your online traffic is from other countries? For instance, Superb has a traffic rank of 468 in Kenya. An important lesson is to not ignore international customers. Ask yourself if you care whether a paying customer is from New York City or from Bangkok, Thailand. If the competition is fierce in your current locale, it is a sound strategy to look at other untapped market geographies.
Always remember that a good online web strategy starts with making sure your web pages are optimized for popular search engines like Google, Bing, and Yahoo. Web hosting companies have fierce competition for keywords such as web hosting, dedicated server, and managed hosting. It is no surprise that Superb Internet does well considering how their pages have great content keeping in mind key words to optimize for. Combining that with a link building strategy and you can see why search engines like www.superb.net.
As you analyze your web traffic, I would first check out your competition and see what they are doing. If you find them doing something you are not, replicate it. If there is nothing else you see the competition doing, check out larger websites you know to see if you can implement some strategies. Getting quality traffic for your websites is something you should always be doing so continuously analyze your traffic so your online business thrives with success.
This entry was posted by Superb Hosting Reviewer on September 7, 2010 at 6:12 am, and is filed under Reviews. Follow any responses to this post through RSS 2.0. Responses are currently closed, but you can trackback from your own site.
Comments are closed.