Posts tagged
bogo
It's almost to the end of the month and that means Superb Internet's popular BOGO promotion is coming to an end. Their BOGO page says this promotion ends July 31, 2010 so get in while you can! When's the last time you made consistent backups of your hosted infrastructure? With a free dedicated server along with any dedicated hosting purchase, you really have no excuse.
Personally, I like to use R1Soft's CDP backup solution since it is fully automated. Load up the free server with some hard drives along with R1Soft continuous data protection and you're pretty much taken care of from a backup stand point. The best part about this solution is that the backup process utilizes minimal system resources so your primary business is not affected with major performance degradation. However, R1Soft can be pricey since there is a license fee involved.
Another option is to use the free dedicated server as your DNS server. You can even use the free server to house your personal files. Free up space on your laptop by loading up the free server with your videos and music content (nothing copyrighted of course!).
Remember that you use this offer for multiple servers. If you buy 5 dedicated servers, get 5 servers free… that's 10 servers for 50% off! For additional details on this buy one, get one free dedicated server promotion, read our original post on bogo.
Superb Internet brought back their best deal, buy one dedicated server and get one server free. On their Buy One Get One Free (BOGO) page, they list the dedicated servers that are eligible to receive a free server. Looking at the list, it looks like all their dedicated servers, including their clearance servers, are eligible to receive a free server. The only condition is that the free server you select has to be equal or lesser value of the server you will pay for. It looks like every clearance server can be used for the free server.
ACTIVATE – PROMO CODE 7436 – BOGO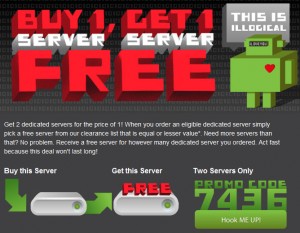 The following is a list of servers you can receive free:
HP DL380 Dual Xeon 3.06 GHz
HP DL380 Dual Xeon 2.8 GHz
HP DL380 Xeon 2.8 GHz
Dual Xeon 3.06Ghz
Dual Xeon 2.8Ghz
Pentium 4 3.0Ghz
Pentium 4 2.66Ghz
Pentium 4 2.4Ghz
I'm a huge fan of this offer… think of all the possibilities for using the second server. Load up a gaming server, finally backup your sites (You know we all like to put this off!), or just use it for your personal storage.
To order this deal, add the 2 servers you want into their shopping cart and once you get to the review page, enter promo code 7436 into the promotion field. You should see your price get updated. Order now>