Archive for
July, 2010
It's almost to the end of the month and that means Superb Internet's popular BOGO promotion is coming to an end. Their BOGO page says this promotion ends July 31, 2010 so get in while you can! When's the last time you made consistent backups of your hosted infrastructure? With a free dedicated server along with any dedicated hosting purchase, you really have no excuse.
Personally, I like to use R1Soft's CDP backup solution since it is fully automated. Load up the free server with some hard drives along with R1Soft continuous data protection and you're pretty much taken care of from a backup stand point. The best part about this solution is that the backup process utilizes minimal system resources so your primary business is not affected with major performance degradation. However, R1Soft can be pricey since there is a license fee involved.
Another option is to use the free dedicated server as your DNS server. You can even use the free server to house your personal files. Free up space on your laptop by loading up the free server with your videos and music content (nothing copyrighted of course!).
Remember that you use this offer for multiple servers. If you buy 5 dedicated servers, get 5 servers free… that's 10 servers for 50% off! For additional details on this buy one, get one free dedicated server promotion, read our original post on bogo.
Superb Internet introduces contract billing for customers on a monthly, 3 month, or 6 month billing cycle. Like many dedicated server companies out there, Superb Internet scales their pricing for servers so it is cheaper for us if we pay additional months up front. The maximum number of discounts is if we pay a full year up front since we receive free setup and up to 30% off the monthly rate for a dedicated server. Paying up front sounds like the fiscal thing to do; however, if you're like me, paying a full year's dedicated server hosting fees in advance puts a serious dent into my cash flow. Suffice to say, I'm not a fan up paying more than 3 months of hosting in advance. After all, wouldn't it be better off to just buy a server at Fry's and then shipping to a data center to collocate?
Having this contract billing is really nice because now I can receive the same discounts of paying for a full year in advance without having to actually pony up the cash to pay for it. The downside is that we are locked in for the 1 year to stick with Superb Internet. For better or worse, the only way I would agree to such a thing was if I was sure that the dedicated hosting company is solid and reliable, like Superb Internet. Superb Internet has been around for a long time and is financially stable. I know they are going to be around for a while and continue to give me great service. We all know that web hosting experiences is different for everyone and that YMMV, but you can't go wrong going with Superb Hosting.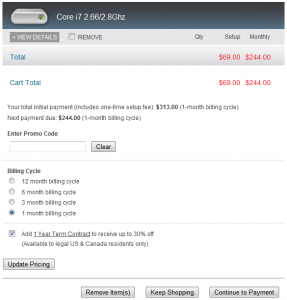 According to their order form, the one year contract billing is only available to USA and Canadian residents. As for the difference between one year term contract and one year billing, we have the option to choose either to receive maximum discounts on our dedicated server. Their billing team mentions that choosing the one year billing cycle (pre-pay a year in advance) may be a better option because it allows us to cancel any time and that any remaining months will be credited back the prorated amount. In contrast, if we select the one year term contract, we lose this flexibility of cancelling because we would be required to pay the remaining balance left on the contract.
Whew! Some many choices and all these options seem like information overload to me. In any case, I like that Superb Internet is giving us customers may options. This reminds me of a quote the knight in Indiana Jones Last Crusade said, "Choose Wisely!"
Recently, Superb Internet added Parallel's Small Business (SMB) Panel to their lineup of control panels offered. Small Business Panel, similar to cPanel and Parallel Plesk Panel, allows us to manage our dedicated servers easily. The Small Business Panel license is priced on a per user basis while providing unlimited domains and priced as follows with Superb's dedicated servers: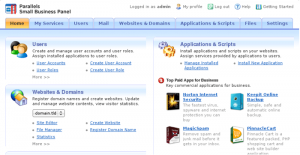 – $18/mo – Parallels Small Business Panel – 1 User
– $25/mo – Parallels Small Business Panel – 5 Users
– $35/mo – Parallels Small Business Panel – Unlimited Users
Traditional control panels, such as Plesk and cPanel, have been designed to meet the needs of the hosting community and very technical oriented. The new Small Business Panel targets users who may not be as technical with a more intuitive interface design making primary functions of server management obvious. However, this does not mean that the Small Business Panel is limited in features. In fact, Parallels Small Business Panel includes their Sitebuilder AND Power Pack, which were popular add-on options for their Plesk Panel. Power Pack includes MS-SQL Server, Tomcat, and Coldfusion Support along with SpamAssassin Anti-spam software.
Currently, Small Business Panel is only available on dedicated servers using the following operating system: CentOS 5, Fedora 11, Debian 4 or 5, Ubuntu 8.04 LTS, Red Hat 5, Windows Server 2003 and Windows Server 2008. To learn more on their offering, click here.