Posts tagged
hp server
Superb Internet just announced their best limited-time promotion. I've always been a dedicated server customer for my websites and this is the first time I've ever seen a deal so good on a server configuration. It's a Dual Xeon 5160 (Dual-core) 3.0Ghz server with full 16GB of FB-DIMM RAM for just $199 per month. This deal is so amazing. The memory upgrade alone would cost over $150 per month. These servers are available until supply runs out. Apparently, they have 200 of them available. Learn more>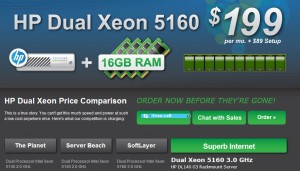 A promo code is not needed for this promotion; however, this dedicated server deal can not be combined with any other existing promotion. Even without using promos, this HP rackmount server is hands-down the best deal you can find any where right now.
To go into detail of the exact server configuration you can get:
HP DL140 G3 Rackmount
Dual Xeon 5160 3.0GHz processor
16GB FB-DIMM RAM
2x250GB SATA hard drive
RAID-1 included
4000GB monthly traffic
$89/setup; $199/month
<Order Now
>
The server uses Fully-Buffered DIMMs and 16GBs is the max. Since this server is a 1U rackmount server, it can only support a max of up to 2 hard drives. This server includes hardware RAID-1 which makes this deal even sweeter. You can replace the existing hard drives with larger capacity drives up to 2TB SATA drives if you wish.
I would recommend adding Lease-to-Own on this server so that after a year you will own it. A very sweet server to keep for a while.